¿Por qué no puedo copiar archivos superiores a 4 GB en mi dispositivo flash USB?
---
La capacidad de la unidad flash externa es mayor de: 8 GB, 16 GB o más. Hay suficiente espacio libre en la unidad. Puedes copiar archivos más pequeños a la unidad externa muy bien. Sin embargo, cuando intentas copiar un archivo de gran tamaño (4 GB o más) a la unidad externa, Windows te da un error (por ejemplo: "No hay suficiente espacio libre en la unidad", o algo parecido) ¿Te suena familiar?
Si tienes algún problema, lo más probable es que sea causado por el hecho de que la unidad flash se ha formateado con el sistema de archivos FAT32. Este tipo de sistema de archivos tiene una limitación incorporada en el tamaño de los archivos que puede contener. Aunque el tamaño total de los archivos que puedes copiar en una unidad FAT32 podría ser tan grande como 2 TB (o la capacidad física de la unidad, cualquiera que sea menor), el tamaño de cada archivo individual no podrá exceder los 4 GB.
Esta limitación puede parecer una tontería: ¿por qué alguien diseñaría un sistema que no permite los archivos más grandes? El problema es que cuando el sistema de archivos FAT32 fue diseñado (eso fue en los días del Windows 95), nadie previo que tendríamos este tipo de archivos de gran tamaño en la actualidad. O, tal vez los diseñadores esperaban que con el tiempo estos archivos de gran tamaño se convirtieran en comunes, el uso del sistema FAT32 sería reemplazado por sistemas más modernos.
En cualquier caso, ¿como resolver el problema de copiar archivos de 4 GB? Es fácil: necesitas sustituir el sistema de archivos FAT32 en la unidad con el sistema de archivos NTFS. Este último no tiene la limitación de tamaño de archivo de 4 GB, y también permite muchas otras funciones no compatibles con FAT32: seguridad de archivos, cifrado, compresión, etc.
Sin embargo, una advertencia: las versiones anteriores de Windows (Como Windows 95, 98 o Windows Millennium, ¿recuerdas estas?) no son compatibles con el sistema de archivos NTFS. Si vas a utilizar la unidad con estas computadoras viejas, entonces NO formatees la unidad con NTFS, porque no podrás lograra que el viejo Windows lo reconozca de todos modos. Sin embargo, si sólo vas a utilizar la unidad con las versiones más recientes de Windows, como Windows 2000, Windows XP, Windows Vista, y por supuesto, Windows 7, estos equipos deben trabajar bien con el NTFS.
¿Cómo cambiar la unidad de FAT32 a formato NTFS?
Hay varias formas de ir. Si la unidad está vacía o no contiene archivos importantes, la forma más fácil es usar el comando de Windows Formato para formatear la unidad con el sistema de archivos NTFS. Específicamente:

Encrypt and password-protect external drives with USBCrypt encryption software for Windows 11,10,8,7.

User rating:

4.7 / 5
Purchase or download a free trial.
Read more...
Conecta la unidad flash externo al ordenador, espera a que Windows lo reconozca y asígnale una nueva letra.

Abre la carpeta Equipo y localiza la letra de la unidad asignada a la unidad flash que deseas formatear con NTFS (en el ejemplo que se muestra a continuación, es la unidad F:)

Antes de continuar, abre la unidad en una ventana y asegúrate de que este vacía o que no contenga archivos importantes, porque después de formatear una unidad, ¡toda la información que estaba en ella se borrará! Si hay archivos en la unidad que deseas conservar, aprovecha esta oportunidad para copiarlos al disco duro u otra unidad.

Si estás seguro de que el disco duro externo no contiene archivos importantes, ve a la carpeta Equipo, y haz clic derecho en el icono de la unidad externa:
Selecciona Formatear en el menú y, a continuación, elige las opciones de formato.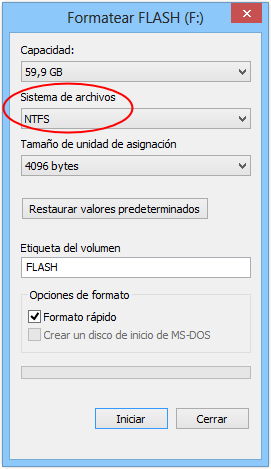 Asegúrate de seleccionar NTFS en el sistema de archivos de la lista desplegable. Eso es lo que determina el tipo de sistema de archivos que la unidad debe tener. Además, es posible que desees seleccionar la opción "Formato rápido", lo que debería acelerar el proceso de formateo considerablemente.

Pulsa Inicio, y Windows debe avisarte una vez más acerca de borrar toda la información existente en la unidad (ver paso 3). Una vez más, si estás seguro de que la unidad no contiene documentos irreemplazables, confirma que deseas continuar con el formato.

Si seleccionas la opción "Formato rápido", el formato no debería tomar más de un minuto o dos. Como resultado, debes tener la misma unidad, pero ahora debe tener el sistema de archivos NTFS. Ahora podrás copiar los archivos de más de 4 GB a la unidad.
Además de dar formato a una unidad con el sistema de archivos NTFS, Windows también ofrece una manera de convertir una unidad de FAT32 a NTFS. La diferencia es que el proceso de conversión mantendrá los archivos existentes en el disco. Consulta la sección "Ayuda y soporte técnico" de tu equipo para las instrucciones sobre cómo realizar la conversión.
PD: Nuestro software de cifrado USBCrypt puede crear un disco virtual encriptado con formato NTFS, incluso si la unidad anfitrión está formateada con FAT32. Esto sugiere otra solución: en lugar de formatear el disco anfitrión con NTFS, puedes utilizar en su lugar USBCrypt para crear un disco virtual encriptado con formato NTFS. Si haces esto, entonces además de romper la barrera del tamaño de archivos de 4 GB, también tendrás mayor seguridad y protección de contraseña para los archivos que pones en el interior del disco virtual encriptado. Ver la página web USBCrypt para más información o para descargar una prueba gratuita de 30 días.
P.P.S. Si sólo necesitas transferir un archivo grande de un ordenador a otro, puedes disponer del formato FAT si utilizas la utilidad divisor de archivos, como el que se incluye en nuestro administrador de archivos AB Commander. Utilizando este comando separador, puedes seccionar un archivo grande en partes más pequeñas (por ejemplo, en 2 GB cada uno). Estas fracciones se pueden poner en una unidad con formato FAT sin ningún problema. A continuación, en el equipo de destino, utiliza el comando Fusionar para combinar los pedazos juntos en el archivo original. Por supuesto, si deseas abrir el archivo directamente desde la unidad FAT externa, esto no te ayudará, pero para transferir archivos entre ordenadores con Windows debería funcionar bien.
Si deseas conectar a este artículo, puedes utilizar este código HTML: <a href="https://www.winability.com/por-que-no-puedo-copiar-archivos-superiores-a-4-gb-en-mi-dispositivo-flash-usb/">¿Por qué no puedo copiar archivos superiores a 4 GB en mi dispositivo flash USB?</a>
Read more