WINEXIT vs ActiveExit: automatically log off users from Windows
---
Microsoft Windows Resource Kit includes the winexit utility, that can be set up as a screen saver that can automatically logoff the user after a set period of inactivity, similarly to what ActiveExit does. If you are contemplating using winexit instead of ActiveExit, consider the following: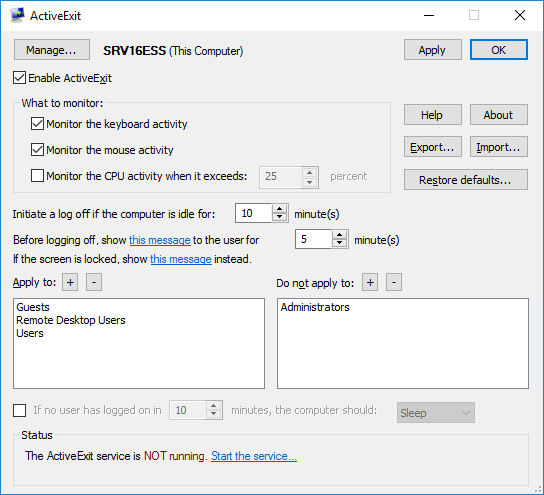 winexit replaces the user's screensaver with its own, while ActiveExit does not require that: ActiveExit does not rely on the screen saver functionality in any way. ActiveExit is a system service, not a screensaver. With Active Exit, users are free to choose their own screen savers without disabling the auto-logoff functionality.
For winexit to operate properly, you must configure the appropriate permissions to modify the machine-specific part of the registry, possibly compromising the security of the computer (see Microsoft Support Article 156677 for the details). Active Exit does NOT need such a configuration.
winexit does not always logoff the user properly, especially if the user has locked the screen before leaving. Instead of logging off, winexit may just create a blank screen, requiring a hard reboot of the workstation to return to the desktop. In contrast, ActiveExit can log off the users even if their screens are locked or disconnected from the server.
winexit may not work for the restricted users. ActiveExit, on the other hand, can log off both the restricted users and administrators.
winexit does not have any built-in way of excluding certain user accounts (such as the administrators) from being logged off. ActiveExit allows you to specify which users or user groups should or should not be logged off after inactivity. ActiveExit supports both the local and Active Directory domain accounts and groups.
Unlike winexit, ActiveExit can be installed and managed using Active Directory and Group Policy. (If local Group Policy Editor is missing on your computer, you can add it manually.)
And more! Please refer to ActiveExit User's Guide for more information on what ActiveExit has to offer.
Attention System Administrators: ActiveExit is enterprise-ready! The ActiveExit Administrator's Kit is available now.
If you have not done so yet, feel free to download a no-strings-attached-no-obligation installation file of ActiveExit and see for yourself how ActiveExit can be of use to you:
ActiveExit User's Guide • Purchase • Download
If you want to link to this article, you can use this HTML code: <a href="https://www.winability.com/active-exit-vs-winexit/">WINEXIT vs ActiveExit: automatically log off users from Windows</a>
More information