Estimate how much you could cut your electric bill with ActiveExit software
---
With the energy costs what they are now, you are probably wondering what could be done to reduce the electric bill. If you have a PC that you often find idling during the off hours, and you are tired of turning it off when not in use, you no doubt have been wondering, is there a way to automate the task?
Sure there is: our ActiveExit software can not only automatically log off the inactive users, but it can also automatically shut down the computer if no one has logged on to it in a while.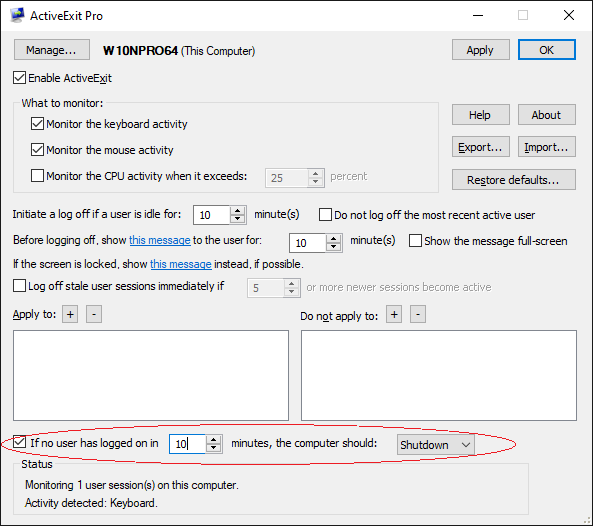 Is it worth the trouble? Let's do a quick estimate of the possible savings. A typical desktop computer consumes approximately 100 watts of electricity, give or take. If you keep it off for 10 hours, you would save 1 kWh of energy. The average cost of electricity in the USA is about $0.15 per kWh. It seem like not much, but multiply that by 365 days, and you would come up with almost $55. That's how much you would save by turning off your computer automatically every night for a year. Considering ActiveExit is free for personal use at home, it's like free money.
Attention System Administrators: ActiveExit is enterprise-ready! The ActiveExit Administrator's Kit is available now.
Of course, if you run an office with several computers, multiply the number by the number of the computers. If you manage a large computer network, the savings could be quite dramatic. Considering that ActiveExit can be installed and managed using the standard Group Policy and Active Directory, it's a no-brainer.
If you have not done so yet, feel free to download a no-strings-attached-no-obligation installation file of ActiveExit and see for yourself how ActiveExit can be of use to you.
ActiveExit User's Guide • Purchase • Download
If you want to link to this article, you can use this HTML code: <a href="https://www.winability.com/active-exit-estimate-electric-bill-savings/">Estimate how much you could cut your electric bill with ActiveExit software</a>
More information