Hide folders and make files invisible with Folder Guard
---
Folder Guard makes it easy to protect folders with passwords. However, what if you want to hide a folder completely, to make it invisible for other users of your computer?
It's just as easy to hide a folder with Folder Guard, too. One way is to use the Wizard: first, switch to the Restricted view of the Folder Guard program, and click the Restrict another file or folder link: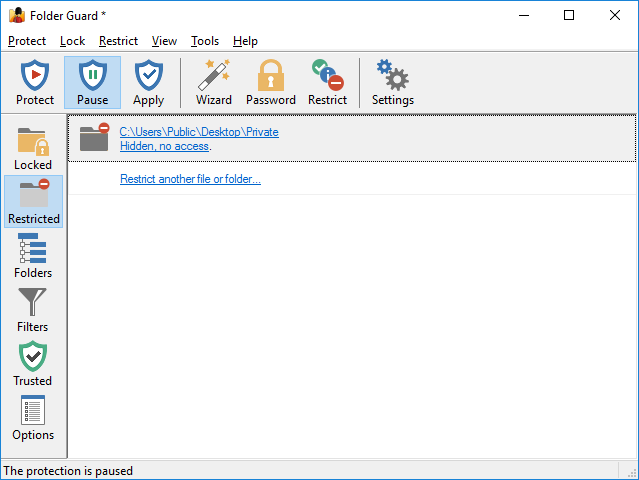 That should start the Wizard, and when its Visibility restrictions page is displayed, select the Hidden option: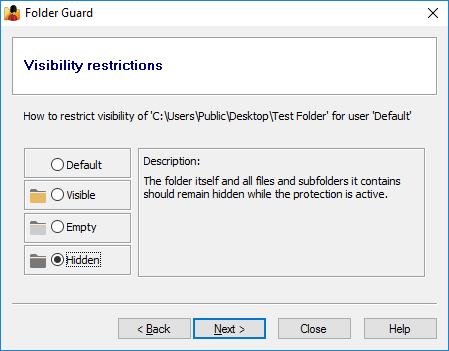 Another method of hiding a folder is with the Folders view of Folder Guard window: select the folder you want to hide in the folder tree and assign the Hidden attribute to it using the right-click menu: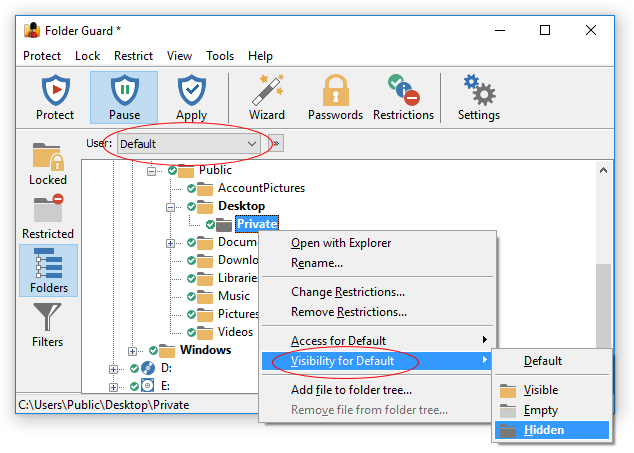 Now apply the changes and resume the protection, if necessary, and try to locate the folder with Explorer or another program: the folder should not be visible in the regular file listings! When you pause the protection the folder should become instantly visible. (You may need to press the F5 key within the Windows Explorer window, to make it refresh the list of folders it shows).
Note that you do NOT need run the main program of Folder Guard to pause or resume the protection: you have several other tools available:
You can pause or resume the protection at any time by running Folder Guard using its Desktop shortcut or Windows Start menu.

You may want to set up a hot key to give yourself quick access to the Pause/Resume Protection command by pressing a key combination of your choice.

You can also enable the option to display the notification icon on Windows taskbar next to the clock, and click on that icon to get access to the Resume/Pause Protection command:

And more! Please feel free to download the fully functional evaluation version and give it a try. If you don't like it, use Windows Control Panel to uninstall it: no strings attached.
Folder Guard User's Guide • Videos • Download • Purchase
If you want to link to this article, you can use this HTML code: <a href="https://www.winability.com/folder-guard-hide-folder/">Hide folders and make files invisible with Folder Guard</a>
More information