How to unhide a hidden folder with Folder Guard
---
If you've used Folder Guard to lock a folder with a password, it's obvious how to unprotect such a folder: just double-click on the folder's icon, enter your password, and the folder would be unlocked. However, what if you have set up the folder to be hidden altogether? In such a case, when you browse your computer, you would not see the folder in the Explorer windows, and there would be no icon to double-click on! So, how to unlock the folder if it's invisible?
The solution is simple: use any of the available methods offered by Folder Guard to pause the protection, and that should make any hidden folders instantly visible: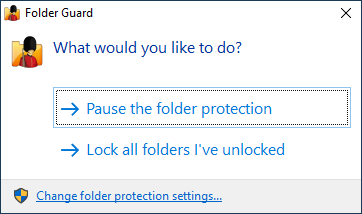 Folder Guard offers several tools to display such a screen:
You can pause or resume the protection at any time by running Folder Guard using its Desktop shortcut or Windows Start menu.

You may want to set up a hot key to give yourself quick access to the Pause/Resume Protection command by pressing a key combination of your choice.

You can also enable the option to display a Folder Guard icon on Windows taskbar next to the clock, and click on that icon to get access to the Resume/Pause Protection command:

When you are done using the folder, how to hide the hidden folder back? Use any of the same tools listed above, but this time choose to Resume the protection: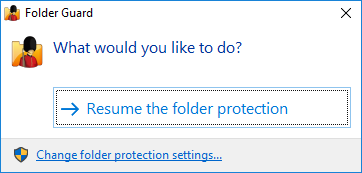 Happy computing!
Folder Guard User's Guide • Videos • Download • Purchase
If you want to link to this article, you can use this HTML code: <a href="https://www.winability.com/unhide-hidden-folder/">How to unhide a hidden folder with Folder Guard</a>
More information