How to create a local user account in Windows 11 or Windows 10
---
If you tried to install a fresh copy of Windows 11 recently, you had probably discovered that it no longer allows you to create a local user account: it insists on using a Microsoft account to set up a fresh copy of Windows 11. Previously, one could use the trick of disconnecting the computer from the Internet while installing Windows, and that would force Windows to present you with an offer to create a local account. This trick used to work with Windows 10, but not anymore: with Windows 11 Microsoft decided you need a Microsoft account, no way around it.

Password-protect and hide personal files and folders with Folder Guard for Windows 11,10,8,7.

User rating:

4.7 / 5
Purchase or download a free trial.
Read more...
What is a local account and why would you want to use it instead of a Microsoft account, you might be wondering? The main difference is where your account information is stored: the local account is stored locally on the computer itself. The Microsoft account is stored on the Microsoft cloud servers, and a copy of it is also maintained on your computer as well. This gives us the primary reason to avoid using a Microsoft account: privacy. If you use a Microsoft account to login to Windows, it gives a way for Microsoft to keep track of your computing activities. Of course, you may also find it beneficial: if you use the same account to log in to various Microsoft services, as well as the apps on your phone or tablet, it gives you a way to easily share your settings and files between them. If that's your thing, go ahead, and use your Microsoft account. But what if you just want to use the computer and not share your data with other services and devices?
Since Windows 11 does not let you create a local account when installing or setting up Windows for the first time, we could work around it by using the following strategy: we would create and use a temporary Microsoft account just to keep Windows 11 happy diring the intial setup. When the setup is finished, we would create a local user account. Finally, we would login to the local account and delete the temporary Microsoft account that we used during the setup. If it sounds too complicated, it's not, and we will show you how to do it below.
So, if you are installing Windows 11 from scratch, or setting up a new laptop you've just got for Christmas, if Windows insists on using a Microsoft account, go ahead and create one. If you want to have a little fun and choose an email like PrivateUser1234@hotmail.com or NoneOfYourBusinessMicrosoft9876@outlook.com or some other email along those lines, go ahead. Don't worry about it too much, because you would only be using it for a few minutes, and then forget about it. Still, while you are creating it, be sure to write down the password and other information you provide for this account, because you might need it to log in to Windows for the first time, after it's been set up.
When Windows is ready and you can log in to it with the temporary Microsoft account, don't bother to start doing any customizations, like choosing the wallpaper etc. (You want to customize the settings for your local account, in a few minutes.) Instead, right-click on the Start button and choose Computer Management from the menu. This should open the Computer Management application that lets you do many different things. At this point, however, we only want to use it to create a local account. To do that, use the left panel to select Local Users and Groups - Users, and then right click within an empty space of the middle panel and choose New User from the menu: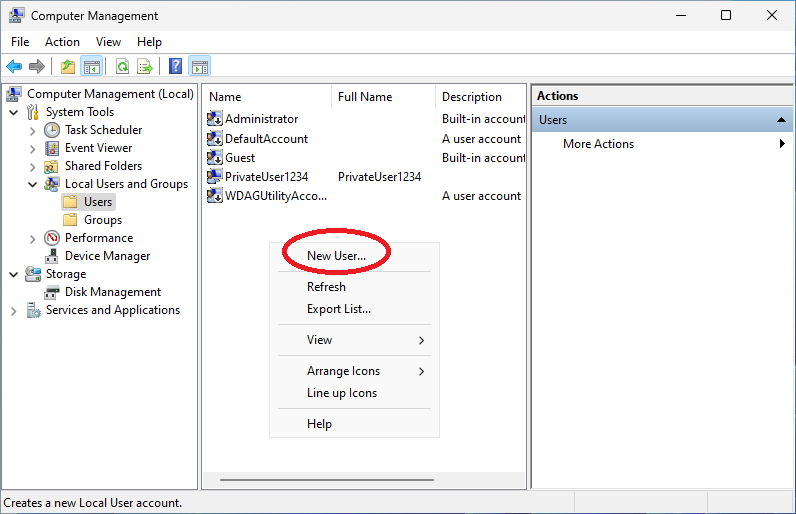 When the New User screen opens, fill it out with the information for the local user account you want to create. Keep in mind the User name that you enter here will be displayed by Windows on the login screen, and it will also be used to create the local folder to store the account information (under C:\Users), so take a few moments to decide what you want to use here, because you will see it on the screen quite often.
While you are here, you may want to adjust the password settings: clear User must change password at next logon and select Password never expires, unless you have a reason not to do that: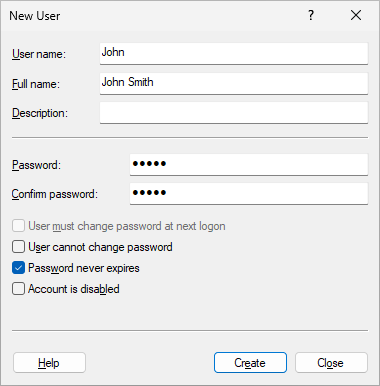 Press Create, and then Close. The new account you've just created should appear in the list, but we are not done with it yet. Right-click on it, and choose Properties from the menu. When the Properties screen appears, select the Member Of tab: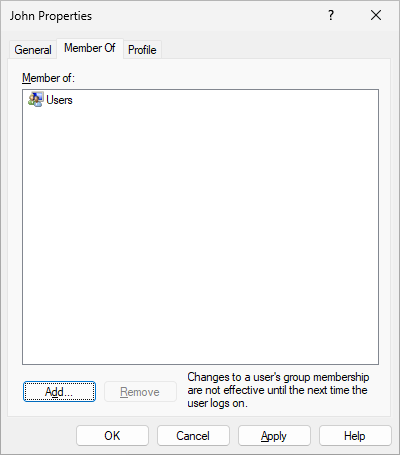 Since you will use this local account as the primary account on this PC, you need to make it a member of the Administrators group, otherwise Windows would not allow you to change the computer settings, install other software, etc. To do that, press the Add button, and on the Select Groups screen press the Advanced button. When the Select Groups (Advanced) window appears, press Find Now, and finally select the Administrators group in the list: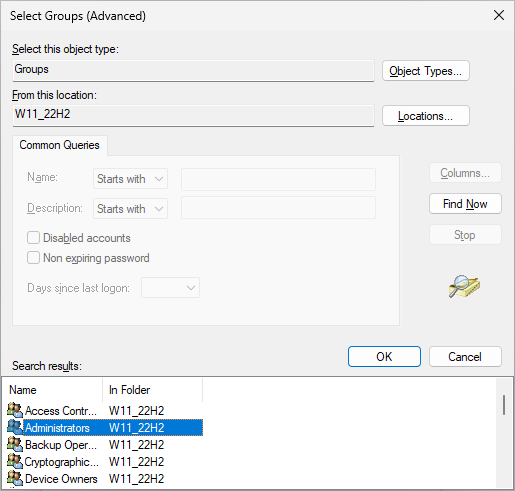 Press OK a couple of times, the Members Of tab should now look like this: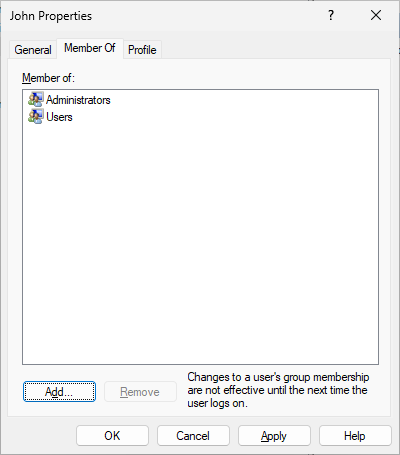 Now our work is done. Press OK to close the Propertiers window, than log out of the Microsoft account, and log back in using the newly created local account (John in our example). Double-check that you can use this account to manage the computer (by for example, running Registry Editor). If everything seems ok, you can now delete the temporary Microsoft account you've used to setup Windows 11, using the same Computer Management program as described above.
Happy computing!
If you want to link to this article, you can use this HTML code: <a href="https://www.winability.com/how-to-create-local-user-account/">How to create a local user account in Windows 11 or Windows 10</a>
Read more