Icon Shepherd: save, restore, and take control of moving Windows desktop icons
---

Icon Shepherd™ is a software utility designed to take control of the situation when your desktop icons keep moving. It will keep track of the icons on your Windows desktop, and restore their positions when Windows messes them up.
When you download and install Icon Shepherd, it puts a small icon in the notification area of the taskbar (next to the system clock):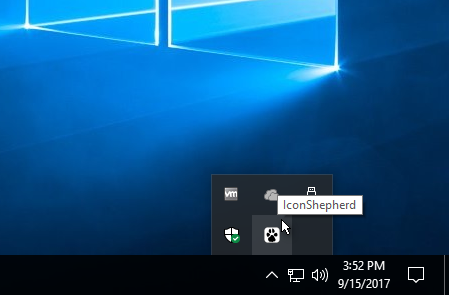 Monitoring the moving desktop icons
While the icon is there, it is quietly monitoring the changes happening to your desktop icons, such as when you move them, or add, delete, or rename an icon. When a change is detected, Icon Shepherd takes a snapshot of the icon positions and remembers it for you. If something happens and the icons become all messed up, you can use Icon Shepherd to restore the icon positions from a previous snapshot, with just a couple of clicks of the mouse: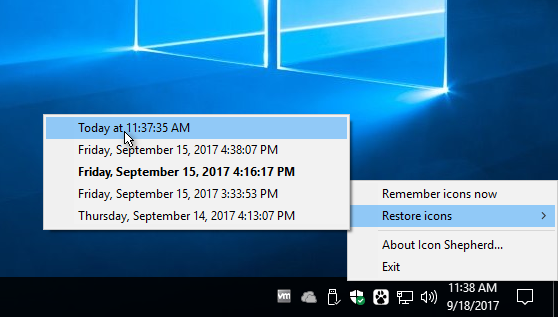 The menu also has the Remember icons now item on top of the list. You can use it any time to save a new snapshot of the icons and give it a name, to be able to easily recognize that layout on the menu next time you need to restore the icon positions from it.
Note that if the Auto arrange icons option is enabled for your desktop, then Icon Shepherd would not be able to restore the icon positions: they would be auto-arranged instead by Windows. When Icon Shepherd detects such a situation, it offers you to clear this option. You can also clear it yourself, by right-clicking on an empty space of your Desktop, and using the View menu: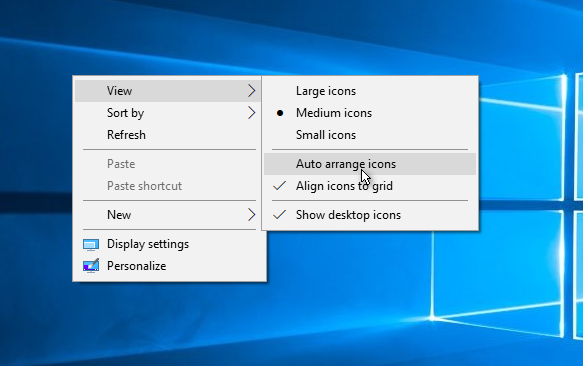 Sometimes when you click on the Icon Shepherd icon, it adds an additional informational area in the middle of the menu, similar to this image: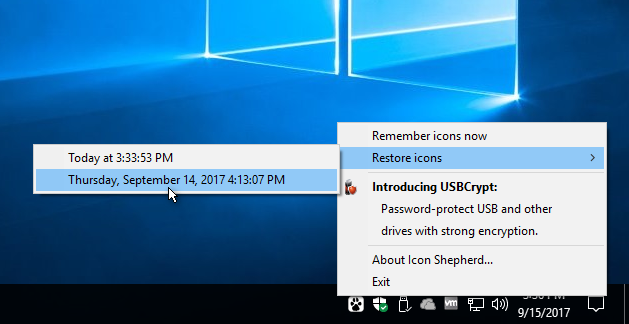 What is that Introducing... area on the menu, you might ask? Well, since we are offering Icon Shepherd free of charge to the home users, we thought you would not mind too much if we put a few suggestions of some other software products of ours there. We hope one of them might interest you; if so, click on that area to open our web page with more information. If you don't want to see our ads on the Icon Shepherd menu, purchase a license, enter your license key into the program, and the ads will no longer appear there.
Can Icon Shepherd be run from the command line?
Yes: in addition to using it interactively, you can also run Icon Shepherd on demand, to store or restore the desktop icons, by launching it with the appropriate command line arguments.
OK, how much is it?
You can use one copy of Icon Shepherd on one of your private computers at home, free of charge. However, if you want to use Icon Shepherd on more than one computer, or if you computer is used for any business or employment related tasks, then an appropriate license must be purchased.
Which versions of Windows is this program for?
Icon Shepherd is compatible with Windows 11, 10, 8, 8.1. It can also be used with Windows Server 2012 and later. It could also work with the older version of Windows such as Windows 7 or Windows XP, but we no longer support such configurations. You are welcome to download and try Icon Shepherd before purchasing a license to see if it works well enough in your specific environment.
Can I use it on a Mac or a Linux computer?
No, Icon Shepherd is for Windows computers only, sorry.
What else will it add to my computer?
If you've downloaded and installed Icon Shepherd directly from our web site, it will not add any other software, only Icon Shepherd itself will be installed. Note that some third-party web sites repackage our products and add additional unwanted programs to it. We have no control over such unscrupulous companies, sorry. To make sure you don't get anything unwanted, only use the download links you see on this web page.
What if I don't like it and want to remove it from my computer?
No problem: simply uninstall it just like most other Windows programs, using Windows Settings or Control Panel.
Can I see the End User License Agreement for this software, please?
Definitely: Icon Shepherd End User License Agreement.
OK, how do I get this software on my Windows computer?
First, download the setup file to your computer. Choose to save the file, and after it's been downloaded, run it to install Icon Shepherd. It will put the Icon Shepherd icon on to your taskbar, and that would do it.
Do you offer an enterprise version of Icon Shepherd that can be deployed on a large network?
Yes, please see Icon Shepherd Administrators Kit for the details.
Can Icon Shepherd be installed without license verification over the Internet?
Yes, we offer the Enterprise edition of Icon Shepherd that can be installed on computers not connected to the Internet.
Download IconShepherd • Purchase IconShepherd
If you want to link to this article, you can use this HTML code: <a href="https://www.winability.com/icon-shepherd/">Icon Shepherd: save, restore, and take control of moving Windows desktop icons</a>
Read more