For each Virtual Encrypted Disk that you create with Encryptability, the software creates several files that need to be stored on one of the physical storage devices of your computer, in a single host folder. Use this screen to specify the location for such folder: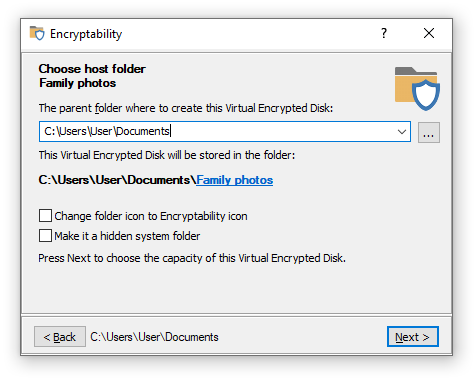 Each Virtual Encrypted Disk must be stored in a separate host folder. This screen offers you the options to specify both the parent folder under which several such folders could be located, and the name of the final folder to be used for this specific Virtual Encrypted Disk.
For the parent folder, you can choose almost any folder where you usually store your files and documents, or it could be a folder located on another drive attached to your computer, if you have one. The parent folder does not need to be the same, you can choose a different parent folder for each Virtual Encrypted Disk, or you can choose to have several Virtual Encrypted Disks stored under the same parent folder, it's all up to you.
To change the name of the final folder used for this Virtual Encrypted Disk, click on the link in the path displayed on the screen, and choose one of the options from the menu: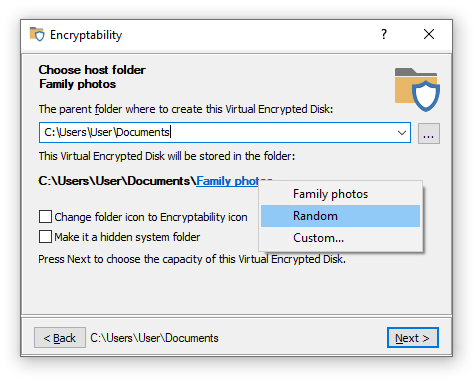 You can choose the name of the final folder to be the same as the name of the Virtual Encrypted Disk (which is Family photos in this example), or have a random name consisting from several letters and digits, or have a custom name of your choosing.
Remember that the names of the parent folder and the final folder you specify here are NOT ENCRYPTED, they may be visible to anyone browsing your computer.
This screen also offers several options related to the host folder for this Virtual Encrypted Disk:
Change folder icon to Encryptability icon

Select this option if you want the folder icon (as it appear in File Explorer), to be the icon of the Encryptability application. You may want to select this option if you want to be able visually distinguish the folders which are used to store the Virtual Encrypted Disks from other folders you might have. This option only affects the visual appearance of the folders when browsing them with File Explorer; it does not have any impact on the operation of the Virtual Encrypted Disk.


Make it a hidden system folder

Select this option if you want the host folder of this Virtual Encrypted Disk to be marked as hidden and system folder. If you select his option, the folder will not be visible in File Explorer under normal conditions. However, the folder may become visible if the user of the computer changes the File Explorer options to make it display the hidden system folders, so you should not rely on this option to make the host folder completely invisible to other users.
Next step: Choose size
---


Copyright © 2023,
WinAbility® Software Corporation

.
All rights reserved