Encryptability can check for the updates for you, either manually or automatically: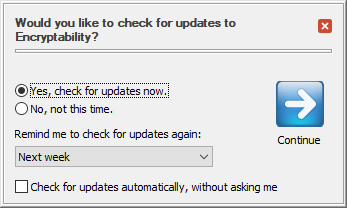 You can choose how often you want Encryptability to remind you to check for the updates (daily, weekly, monthly, or never). You can also set up Encryptability to check for the updates automatically, without asking you.
Note that you may need to configure your firewall, anti-virus, and/or anti-spyware software to allow Encryptability to connect to the Internet, otherwise it may not be able to receive the information about the updates.
Related topics:
---


Copyright © 2023,
WinAbility® Software Corporation

.
All rights reserved