Sometimes when you attach an encrypted drive to your computer, you may see a message similar to the following: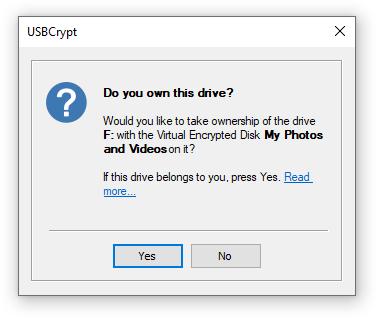 This message is shown if the USBCrypt license information on the encrypted drive is missing or does not match the USBCrypt license information on your computer. For example, if your friend brought her encrypted drive over to you and attached it to your computer, then obviously the license information on the drive would be different from the information that you have on your computer. Or, if you have attached an encrypted drive created with an evaluation version of USBCrypt: in such a case the encrypted drive would not have any license on it at all.
If the encrypted drive does not belong to you, reply No, and USBCrypt will leave the drive as it is now. However, if the drive does belong to you, press Yes, and USBCrypt will update the license information on the drive to match the current license on your computer. After that, you will not see this message again.
---


Copyright © 2023,
WinAbility® Software Corporation

.
All rights reserved