USBCrypt is the "try-before-you-buy" software. It means that you can download the fully functional software from our web site and give it a try to see whether it suits your needs and works well enough for you. If it's not up to your expectations or requirements, simply uninstall it from your computer, you have no obligation to continue using the software or pay for it unless you want to. If you do decide to keep the software and continue using it, you can purchase a license for the continued use, enter your license key into the program, and then start using USBCrypt for real, not just for evaluation.
During the evaluation, USBCrypt works in exactly the same way as after you purchase a license for its continued use: there is NO functional difference between the evaluation and the fully licensed versions of this software. We make the evaluation versions this way so you can have a real look at them to decide whether or not they fit your needs.
The only thing different during the evaluation of USBCrypt is that it uses a "weak" password protection of the encrypted data: it allows anyone to recover the "weak" password of a Virtual Encrypted Disk within a few minutes or hours (depending on the computer speed). USBCrypt displays the following message when you set up a new password for Virtual Encrypted Disk during the evaluation period: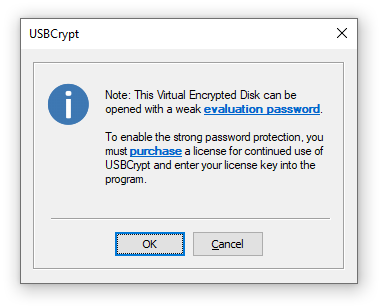 Note that the "weak" password protection does not affect the speed of encryption, or the performance of the file operations on the encrypted volumes, or anything else: USBCrypt operates in exactly the same way, with the same speed. After you purchase a license for continued use of USBCrypt, the next time you start the Virtual Encrypted Disk, it prompts you to remove the "weak" password protection from it: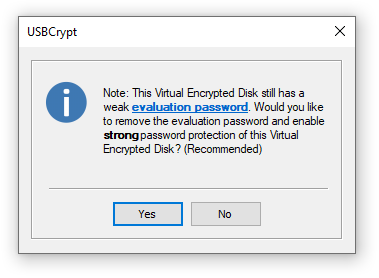 All you need to do is press the Yes button, and USBCrypt will instantly remove the "weak" password protection from the Virtual Encrypted Disk and enable the full, strong password protection.
---


Copyright © 2023,
WinAbility® Software Corporation

.
All rights reserved