You can use Folder Guard for the first 30 days FREE OF CHARGE, with no strings attached and absolutely no obligation to purchase anything!
During the 30 Free Days the operation of the software is not limited in any way, it is 100% functional. We make the software work without limitations so you can have a real look at it and decide whether or not it fits your needs. The only difference in the operation of the software during the free days is the Welcome screen that may be shown when you start Folder Guard: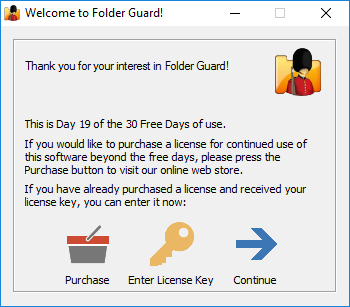 Please remember that Folder Guard is NOT free or public domain software. It is free for the first 30 days only. If you want to use the software after that, you must either purchase a license for continued use of the program, or uninstall Folder Guard from your computer. For the complete terms of use, please refer to file License.txt that is installed along with other files of Folder Guard.
Related topics:
---


Copyright © 2023,
WinAbility® Software Corporation

.
All rights reserved