When Encryptability is ready to actually create the Virtual Encrypted Disk, it offers you to review the options that you have selected on the previous screens: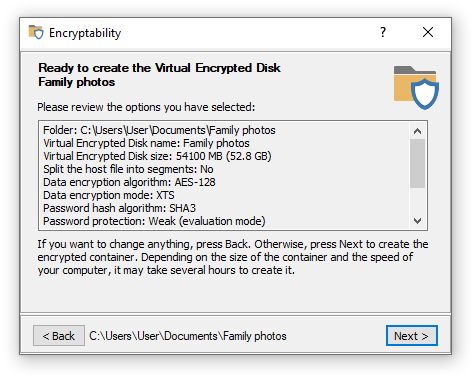 If you want to change anything, it's not too late: press the Back button to return to the previous screens and make the changes as desired. If everything looks OK, press the Next button and Encryptability will start creating a Virtual Encrypted Disk:

The process may take from a couple of minutes to several hours, depending on the size of the Virtual Encrypted Disk you are creating and the speed of the host drive. For the large or slow drives, you can pause the encryption process and resume it later, if you need to allow some other program to use the full processing power of your computer for a period of time.
Next step: The Virtual Encrypted Disk is ready for use!
---


Copyright © 2023,
WinAbility® Software Corporation

.
All rights reserved