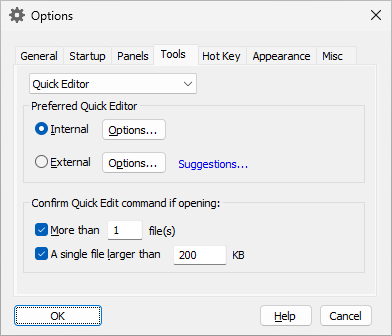 This page is displayed when you select the Tools tab on the Options window. You can use this page to change the options of the internal and external tools used by AB Commander. The content of the page depends on the tool selected in the list at the top of the page. For examle, if the Quick Editor is selected in the list, this page contains the following areas: (other tools will display similar areas)
Preferred Quick Editor
This area lets you select which Quick Editor should be used when you use the Quick Edit button on the toolbar or press the Ctrl+Q key combination. You can chose either the Internal or External Quick Editor to be the preferred one. (The other one would be set up as the alternative Quick Editor, accessible via the Ctrl+Shift+Q key shortcut).
Confirm Quick Edit command if opening
If selected, these options will display a prompt for a confirmation if you attempt to open a large file or several files with Quick Editor. You may find this option of use if you often use Quick Edit command inadvertently.
---


Copyright © 2023,
WinAbility® Software Corporation

.
All rights reserved